Folsom weekend has arrived and if you're new to the game, you've got all kinds of decisions to contemplate before running out onto the leather field. Those who trot through the gates minus preparation are still going to win on visuals and play, but those who put in just a minute of pre-fair prep will really score– hard. The best place to garner suggestions is obviously via a Folsom veteran, but take it a step further and open your orifices to advice from those who not only make it a point to attend, but whose job it is to professionally observe, capture, and display erotic action at the fair and beyond.
Fear No Art features 17 local photographers and a body of work that will make you cum, gasp, smile, and laugh (not necessarily in that order). From intense bondage, hardcore sex, pretty toys, notes on death and loss, and even a woman strung like a harp, this collection is going to get you all revved up for the weekend's plethora of sexual opportunities. Since these photographs are more so for offering inspiration and not the obvious logistical advice you may need for your first-time Folsom adventure, a handful of the artists have offered up some helpful hints to get you off in the right direction.
Patti Beadles
SFBG: Give us a couple notes on etiquette– what to do or not to do? Are there rules?
Beadles: Be respectful. Don't touch people without permission. Looking is OK but gawking is tacky. Try not to sound like a drunken frat boy by making crude passes at people.
SFBG: What to wear? Ahh, the choices!
Beadles: Wear whatever you feel comfortable and sexy in. Leather is good. Lace is good. Heels are good. Boots are good. Whatever you wear, remember that you have to spend the afternoon in it while walking around in the hot sun!
Morgan Weinert
SFBG: Give us three must-sees for newbies.
Weinert: 1. The boot black stand at the intersection of Dore and Folsom. Make sure to tip your boot black! 2. Venus' Playground. Great performances are open for all to watch but the women/trans only space is a great place to get out of the crowd. 3. The Kink.com booth is a crazy place to watch some interesting public performances. The Kink.com models and directors never hold back!
SFBG: What to wear? It's so last minute…
Weinert: Multi-Kulti is a great place to get fishnet body suits, sequined booty-shorts, and false eyelashes. Clothes Contact is full of awesome vintage lingerie and great dresses– most of it sold by the pound!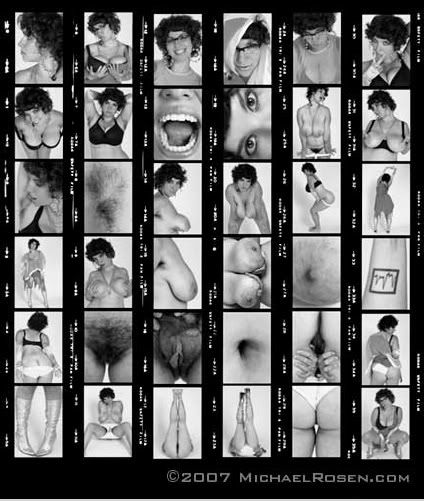 Michael Rosen
SFBG: Name your absolute must-try?
Rosen: Five dollars gets you three minutes of spanking, flogging, or foot worship via one of the ladies of Fantasy makers, a local BDSM establishment. Five dollars can also get you three minutes to fondle the ample breasts of a beautiful, green-haired lady. All proceeds go to charity, this year to the Center for Sex and Culture.
SFBG: What should I wear?
Rosen: Dress to impress, or not. Nudity is OK; wear clothing you can stuff into a fanny pack. The police are cool, but they will tell you to stop any sexual touching. Bring your camera. Leave your "certified panty/jockstrap inspector" t-shirt at home. It's OK to wear a law enforcement officer's uniform, as long as it's not from the SF Police.
Mim Weisburd
SFBG: Three must-sees?
Weisburd: 1. Fear No Art Exhibit 2. My Daddy's hot ass 3. All your friends nekkid in the sunshine
SFBG: How about a must-try?
Weisburd: Something you have never ever done before.
Shilo McCabe
SFBG: Thoughts on etiquette?
McCabe: 1. Please refrain from taking photos without permission. 2. Don't touch anyone without permission– seriously. Just because someone is showing a little (or a lot!) of skin doesn't mean it's there for you to touch. 3. Leave the kids at home! It's kind of unnerving to see parents pushing strollers or walking around with toddlers in hand.
SFBG: What to wear?
McCabe: I always suggest to my friends that the most important things to wear are sunscreen and shit-kicking boots– in case you have to kick shit.
Fear No Art (Opening Reception)
Fri/23, 7 p.m. to 11 p.m., donations accepted
Mark I Chester studio
1229 Folsom St, SF