Forget clowns, acrobats, and bedazzled animals and step right up to a stage full of erotic stimulation, play, and perversion at Fleur De Lis SF's Very Sexy Circus. The sex-positive blogger is throwing the big-top themed bash as a finale to the year she spent documenting her exploration of sex in this city, with the evening's entertainment made up of the crazy pervs she met along the way. From BDSM eye-candy to bawdy comedy and hands-on educational demos, this show ain't no tight-rope and monkey act.
When the seventh of August rolled around last month, Fleur De Lis SF, a.k.a. Vanessa, said she was nearly in tears. It was the end of an era, a wild year of kissing (and/or sucking, fucking, teasing, experimenting, spanking, coming) and telling. She tried animal play, cracked the whip, attended super-secret parties, got dirty, played hard and worked hard, all for the sake of the blog… and personal exploration, of course.
"The blog was a nice excuse to try things, but this year really helped me discover what I like and what I don't," says Vanessa while sipping coffee on a Friday morning. "For example, now I know that I really enjoy group sex and orgies. It takes a particular person to get into it and turns out, I'm one of them." Putting insecurities, inhibitions, and hesitations aside, Vanessa says the year made her a stronger, more confident, sexually satisfied being. Pretty sure sex sabbaticals should be mandatory for everyone.
The local sex celebs turned Circus performers
"I've always been sexual and I've always liked to tell my stories privately," she says, recounting the numerous times her friends would beg for the juicy details over dinner.
Before, spilling these randy tales outside of that trust circle never seemed like a good idea for fear of stigmatization. Even in 2011, most female-identified persons who openly talk about their sexual explorations aren't given high-fives and kudos. Vanessa wants this double standard to change, which is why she started blogging and getting extra honest about her endeavors; initially under the pen name Fleur De Lis, then with her first name. When she happily accepted the title of the Guardian's "Sluttiest Blogger of the Year", her boss found out and fired her.
"I'm a certified paralegal. I'm an educated woman. I'm not stupid. Yet because I'm a woman, I'm put into that category– I'm 'that type of girl' who supports 'that kind of lifestyle'," she says with a frustrated sigh, questioning and challenging what those types of labels even mean. "If I was a dude, my boss probably would have thought my blog was great and would have wanted to talk more about it."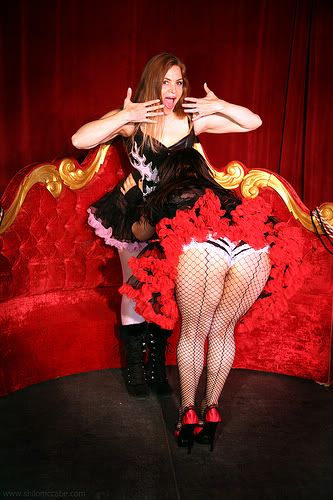 Performer Monika and the "slutty" blogger showing off some lovely assets
She continued to write and eventually landed some legal work with a group of people who are okay with the concept of a personal life. Now she hopes her willingness to being open and honest about kinky-ness will help pave a trail for other women struggling to overcome cultural bias. The best part about being Vanessa again? She can do whatever the hell she wants.
"My life belongs to me again. Fucking in a fishbowl has been difficult — everyone knowing everything, but people need to be reminded that sometimes sex isn't personal. Sometimes its a great stress reliever. Or it's just fun to try interesting things. It's my life and I'm free to make these choices."
Vanessa wanted to put on The Sexy Circus to share these valuable life lessons and she really hopes people who may be interested in being more experimental and want to begin exploring their curiosities can view this celebration as a jumping off point. From suspension to burlesque, The Circus will give the audience a big, fat taste of the SF sex community and send everyone home craving more of their favorite flavors.
Performer Reid Mihalko needs a good taming
"Hope to see you all under my big top," says Vanessa on the flier for the event, which is also "make-out friendly", meaning while this bundle of performances won't equate to a full-on sex party, the vibe will definitely be flirty. Vanessa is all about encouraging play and where better than the circus.
Under Fleur De Lis SF's Big Top: A Very Sexy Circus
Sat/17, 8 p.m., $20
Center for Sex and Culture
1349 Mission, SF