Yes, you read that correctly. And no, they're not providing customers with afternoon delights. OneTaste's "orgasm store" has academic goals: instructing the masses on how to please a woman based on Slow Sex, a book by OneTaste's founder Nicole Daedone. It's kind of like that ancient proverb: Give a man (or woman) a fish and he eats for a day. Teach 'em to fish and she'll cum again, and again, and again.
The heart of Daedone's goal is simple: spreading the should-be obvious notion that every woman deserves super-amazing orgasms. Unfortunately a lot of ladies and their partners don't know how to make this happen. Daedone's attentive approach is simple: combat ADD, settle the mind, and get all parties focused on the task at hand so the explosive ending happens organically.
If you have yet to read Daedone's book or if you've poured thousands into an orgasmic meditation retreat with her OneTaste empire, the pop-up shop is a great, free alternative. The former Loehmann's on the corner of Sutter and Kearny will be home to the Orgasm shop for one month and besides glorifying the book, the space invites everyone inside for a daily to-do list of interactive options.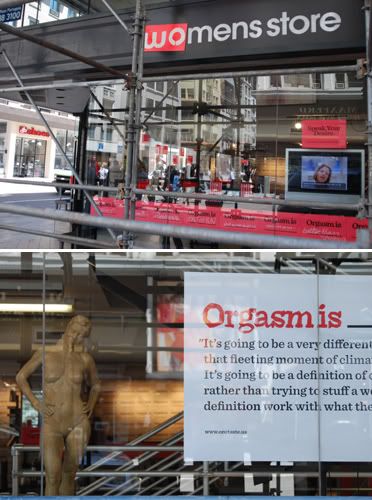 From the "Orgasm Genius Bar" to the opportunity to record a 30 second confession about what your vagina wants in the "Desire Booth," this shop insists you contemplate your sexual fulfillment and then chat about it. Even the walls beg for input. Covered in the scribble-in-the-blank statement "Orgasm Is …," from ceiling to floor, guests can chalk-in their personalized definition.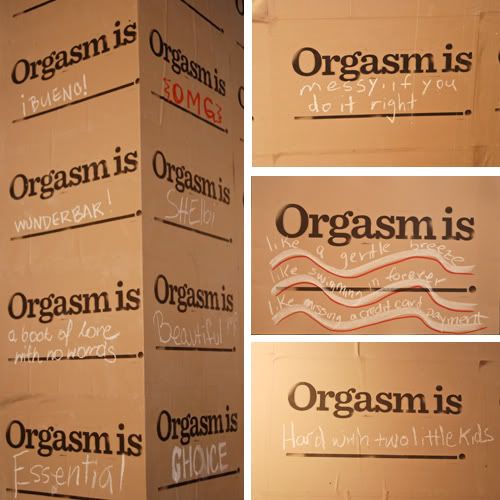 The space also offers yoga classes, lunch hour discussions, happy hours and workshops like "Orgasm Is…Not Just for Younguns! Tips and Tools for Savvy Seniors" and "Behind the Scenes of the 15 minute Orgasm: A Meet Up for 4-Hour Body Fans." Of course Daedone also pops into the store once a day for the promotional stuff, like readings and book signings, offering a motivational glimpse into her Turned-On Woman movement, probably similar to her TED talk.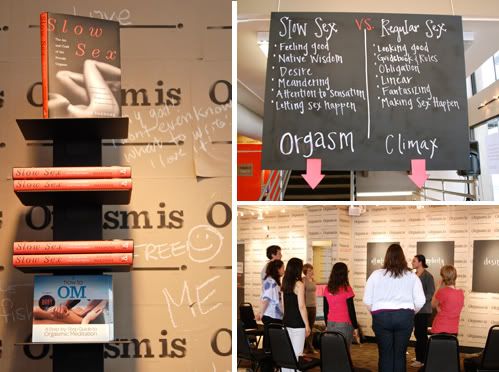 Even if you have your "regular sex" climax on lock, walking into an orgasm pop-up on your lunch hour could be inspiration for some after-work activities and it makes for a great Four Square check-in. Plus, free TCHO chocolate.
Project "Orgasm Is…,"
June 22- July 18
Open daily 11 a.m. to 7 p.m (until 9 p.m. on Wednesdays and Thursdays)
211 Sutter, SF